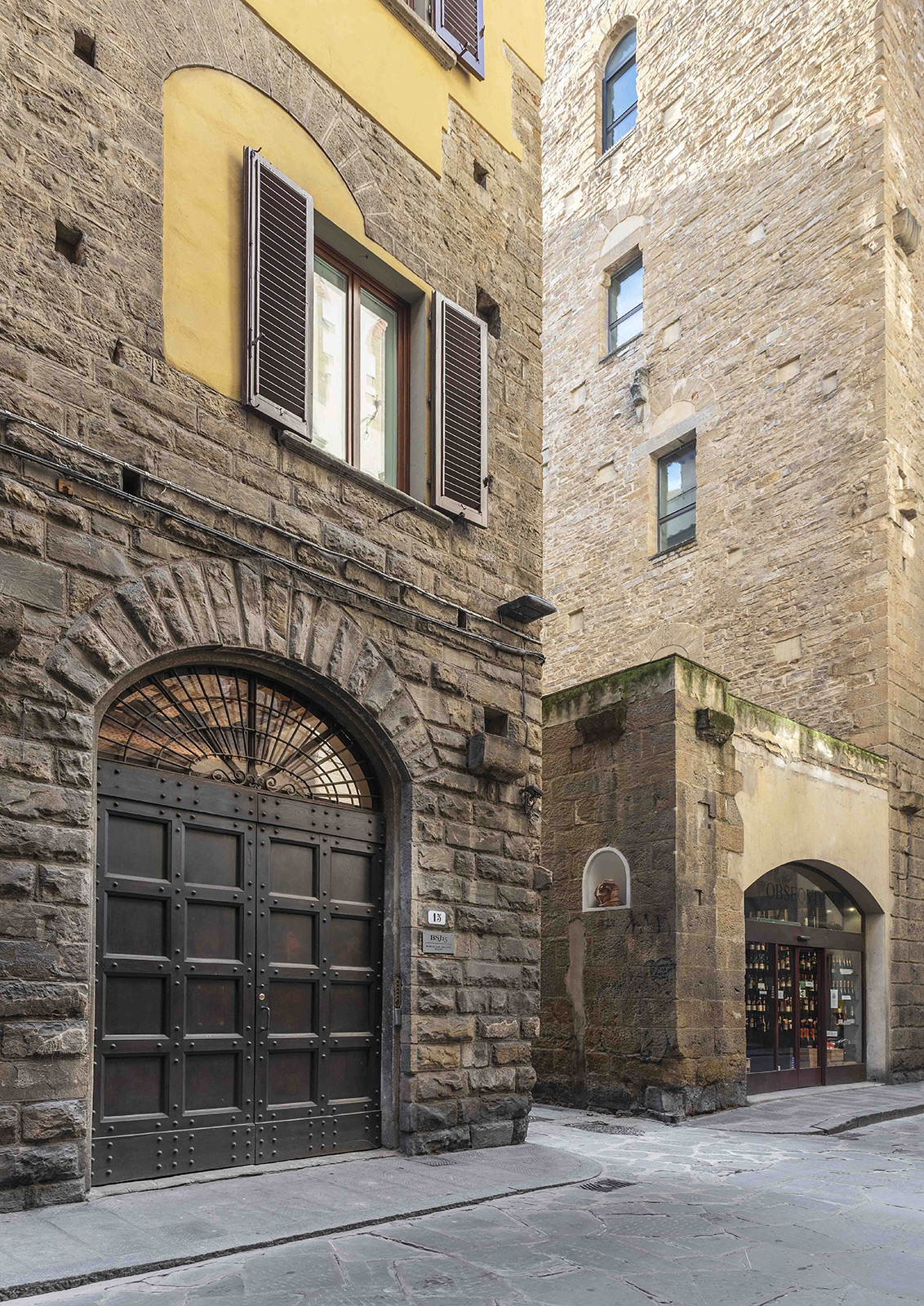 Artistic experience in Florence
BSJ15 – Borgo San Jacopo Room was born as a meeting place between art and hospitality, two of the major virtues of Florence. The location is situated in the most vital and creative district of the city that combines the exceptional history that distinguishes the location of the resort.
Right in this area, two well-known artists of the Florentine contemporary scene: Luciano Bartolini and Mario Mariotti.
In 1984, Mariotti installed in the same intersection with Via Toscanella the ironic "Madonna del Puzzo" to protest against the city administration. In the same years, the American artist Terry Fox installed his last tooth in the rusticated facade that belongs to the current resort, in a hidden performance.
From this exclusive link with contemporary art, our architectural project was started, designed by Pino Brugellis and commissioned by Gabriele Rindi. A destination for those who love art in its extraordinary expressions and want to live a contemporary art experience in the capital of the Renaissance.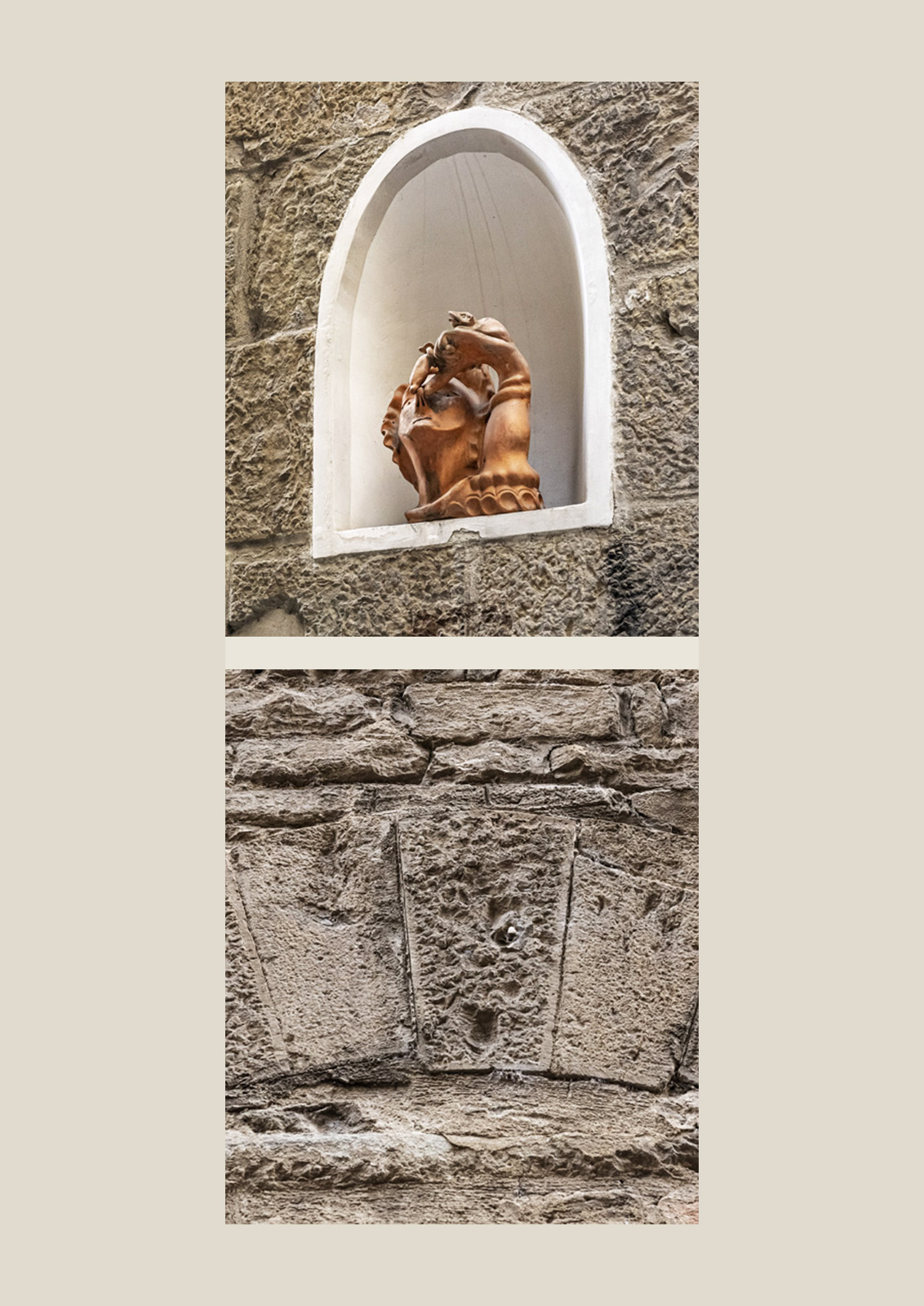 Contact us for more informations or to book your exclusive stay. If you book from this site, we have a wonderful gift for you.
BSJ Art Collection: resort and gallery
BSJ15 – Borgo San Jacopo Room is designed to overcome the border between comfort and artistic experience. The charm of the 14th century architecture and the comfort offered by the refined design, combine an exclusive collection of contemporary graphic art. BSJ Art Collection hosts the masterpieces of some of the most important artists in the international scene. Marco Bagnoli, Massimo Bartolini, Vittorio Cavallini, Paolo Masi, Massimo Nannucci, Maurizio Nannucci Paolo Parisi, Remo Salvadori and Enrico Vezzi will accompany you in every part of the resort with their graphic creations. Our resort is born from the collaboration with the collective of artists of BASE/Progetti per l'arte, a space created by artists for artists, freely accessible in the nearby Via San Niccolò.
When an artist knocks at your door: to each room its collection
From the entrance to BSJ15 – Borgo San Jacopo Room, you will be greeted by the charm of the walls,where a large painting recalls all artists exhibited in the interior. The perfect integration between medieval architecture and contemporary graphic art creates an incessant dialogue between the past and the present of Florence. An atmosphere that culminates on the upper floors with the emotion of a private collection for each room of the resort. Each of the rooms becomes an elective place, mental space and intimate point of contact between the guest and the artist who created these masterpieces.
With a scientific background and graduated in chemistry, he began to exhibit in the second half of the year 1970. Since then his presence in the international art scene has been constant. Since his  debut, the work of Marco Bagnoli has developed as a search for a possible synthesis between the spiritual tension of art, the transcendent nature of the image and scientific rigor. He explores and combines genres such as sculpture, painting and drawing, but above all he reflects on forms and materials organized according to patterns and formulas. In his works, exhibited in solo shows in Italy and abroad, elements of oriental culture and references to past civilizations are combined with philosophical considerations and experimental verifications. Bagnoli's works have been presented in important national and international museums. Its participation includes: Biennale di Venezia (1982, 1986, 1997), dOCUMENTA of Kassel (1982, 1992) Sonsbeek of Arnhem (1986); his personals in two artistic insitutions such as De Appel, Amsterdam (1980 e 1984), Centre d'Art Contemporain Genève (1985), Musée Saint-Pierre Art contemporain, Lyon (1987), Magasin, Centre National d'Art Contemporain, Grenoble (1991), Castello di Rivoli (1992), Centro per l'Arte Contemporanea Luigi Pecci, Prato (1995), IVAM, Centre del Carme, Valencia (2000), České Muzeum Výtvarných Umění, Praha (2009), Madre, Museo d'Arte Contemporanea Donnaregina, Napoli (2015); his passsage through great museums  like Galleria Nazionale d'Arte Moderna di Roma at Centre Georges Pompidou of Paris. His masterpieces are in MAC Lyon collection since 1987, in Centro Pecci of Prato since 1988, in Castello di Rivoli since 1992, in Collezione Longo of Cassino since 1994, in Fattoria di Montellori of Fucecchio since 2011, in Garrison Art Center since 2013 and in Magazzino Italian Art since 2017, both in New York, in MADRE museum of Naples since 2016, in GAM of Torino since 2019.
Bartolini has participated in numerous exhibitions both public and private, national and international. He studied at the Academy of Fine Arts in Florence and in 1993 held his first solo exhibition. Using numerous media, he has dedicated himself since the beginning to design interventions able to transform space and our perception of it. His works are in close connection with the place that hosts those. The artist intervenes on all anti monumental, modifies, interprets, defines it. In his works, Bartolini reinterprets the spaces with new shapes and meanings, creating unusual environments and sets in an evocative atmosphere. He often plays with feelings, senses and perceptions, realizing abstract environments, involving the mind and body of the user. Between his personals we recall those hosted by  Fondazione Merz di Torino in 2017, Marino Marini Museum of  Florence  in 2015, MART of Rovereto in 2014, the Institute of Contemporary Art of Sofia in  2010, MAXXI of  Rome in 2008, GAM of  Torino in 2005, the Centre of Contemporary Arts Luigi Pecci of Prato in 2003, Museu Serralves – Museu de Arte Contemporanea of  Porto in  2007, not to mention its personals like Massimo de Carlo, Milan and Fifth Street Gallery, London . He took part in many international events, like Manifesta 4 (Frankfurt, 2002), the second Biennial of Santa Fe (1997), the Biennale di Venezia of 2013, 2005 and 1999, in 2011 the Triennial of Yokohama and in 2012 dOCUMENTA 13, Kassel.
Graduated in sculpture at the Academy of Fine Arts in Florence in 1998, he immediately began to exhibit. He is among the artists invited to the XI Biennial of young artists held in Athens and Northwest Passages, an exhibition organized by the European community with Città dell'Arte of Biella. From the first works he bases his research on the nature of objects and their functionality and the environment in which those are exposed, transforming and remodeling everyday objects into objects to observe, enriched by new features. From this interest, a new design brand, with which he produces ceramics, textiles and supplies, which he presented in 2013 at the Science and Technology Museum of Milan, in an exhibition curated by Tom Dixon. The project was launched at Salone del Mobile of Milan as "the best new brand" from the magazine Wallpaper e presented at the Gallery S. Bensimon in Paris in 2014. He then realized the entrée for Villa Marie Vassilieff Musée du Montparnasse in 2017 e Bétonsalon – Centre d'art et de recherche in 2018. Significant experience is "Laboratory", a project of coexistence between artists in an effort to connect different methodologies and work processes, finished in 2012 with an exhibition at the Macro Museum in Rome. Between all his projects:  Tell me the story of all these…, Villa Vassillief, Paris (2017); The indipendent, MAXXI, Rome (2016); Vano Alto, Museum of Science and  Technology, Milan (2013); Helicotrema, Auditorium Parco della Musica, Rome, (2013); Laboratorio, Macro Museum of Contemporary Art of  Rome (2012); Les urbaines, Losanna (2011); What is a conference?, Fondazione March, Padova (2011); Noi siamo le piante-contribuire al paesaggio, Ex Breda Greenhouse, Milan (2010); Paesaggio, Fondazione Bevilacqua La Masa, Venice (2009). Since 2008 he is a member of Base / Progetti per l'arte of Florence.
Since the 50's, Masi has participated in the experimental elaboration of new artistic trends, in deep break with the past. A liberation from the canons of formalism and each type of academism pursued with intensity and consistency. From the initial experiences of informal painting and concrete abstractionism, the artist passes to a complex activity and diversified on the technical-linguistic level. In the 60's, Masi participated in collectives and groups, in a continuous experimentation on the way to operate and transform matter. His work opens from time to time to new insights and solutions. Since 1974, he is co-founder together with Maurizio Nannucci and Mario Mariotti of a collective that manages the non-profit space of Zona in Florence, with the aim of spreading national and international artistic experiences. From this experience, the collective Base was born in 2000. The intense activity of Masi is confirmed and recognized both in Italy and abroad. He participated to Biennale di Venezia (1978); XI Quadriennale romana (1986); Kunstlerbücher in Frankfurt e Erwitert Photographie Wiener Secession in Vienna (1980); the exposition in Paris (Centre Georges Pompidou, 1985), Arte in Toscana 1945-2000 (Alberto Boatto e Daniel Soutif, Palazzo Strozzi, Florence, Palazzo Fabroni, Pistoia, 2002) and Pittura Analitica. The italian background 1970-1980 Marco Meneguzzo, Museo della Permanente, Milano 2007). His works can be seen in Mart in Rovereto, in the Gallery of Modern Art of Pitti Palace in Florence and in the Gallery of Modern Art in Torino.
Since the 70's, Massimo Nannucci investigated the conceptual ambiguity in the contrast between False/True, True/False, Reality/Illusion that is part of urban everyday life. Contrast that also extends to flowers, fruits, animals, in a transcription "of false urbanization" of the peasant reality. His Still life photographic in white and and black are very famous, those retrace gestures and actions of some iconic signs of the art of the 60's / 70's. The artist creates waiting places, archipelagos of fragments of rooms, hybrid contexts in form and in the epochs, disassembled and reassembled, diffused in chosen points of paths possible between one place and another. Nannucci exhibits and keeps personal both in Italy and abroad: gallery Schema of Florence in 73, Masnata of Genoa and Multipla of Milan in '74, Kunstverein of Cologne, Moderna Museet of Stockholm. He was invited to the Biennale di Venezia of 1978, where he exhibited the series of photographic works "Camouflage". In the early 80's Peter Weiermair worked on one of his perspectives at Forum for Contemporary Art of Innsbruck (1981) and he was  also invited to the Biennial of Sao Paulo (1981), Paris (1982), the XI Quadriennale romana (1986) and PAC in Milan. In 1993 he exhibited in Nice at Villa Arson. Since 1998 he has been one of the promoters, in Florence, of the non-profit cultural association Base / Progetti per l'arte. Between his works: Percorsi 2001, Villa la Selva, Ponte a Elsa; Continuità: arte in Toscana 1968-1989, Palazzo Fabroni, Pistoia, 2002; Cinema d'artista in Toscana: 1964-1980, Centre for Contemporary Art , Luigi Pecci, Prato, 2004; The Gesture: a visual library in progress, Quarter, Centro Produzione, Florence, 2005; Waiting Rooms, Cango, Florence, 2006; La Specola Museum of Natural History, Florence, 2006.
Since the mid-1960s, the artist has been exploring the relationship between language, writing and image. New conceptual proposals are born, characterized by the use of different media: neon, photography, video, sound, editions and artist books. With an interdisciplinary approach to artistic practices, he started a network of dialogue between art, poetry and architecture. In 1967, the first neon "writings" brought a new dimension to his work in relation to space. With his light installations, the artist places the images-words images-words in a fluid circuit that crosses the color, the sign and the meaning. From 1974 to 1985 he promoted the activities of Zona non-profit art space in Florence and in 1998 he was among the founders of Base / Projects for Art. Maurizio Nannucci is the founder of Zona Archives, Recordings and Exempla editions. In the early 90's he started collaborations with architects such as Fritz Auer, Renzo Piano, Massimiliano Fuksas, Mario Botta, Nicolas Grimshaw and Stephan Braunfels. In 2015 the MAXXI in Rome dedicated him a great anthology, preceded by the most recent solo exhibitions at: Museion, Bolzano (2015), Musée d'art moderne et contemporain, Saint-Étienne (2012), Uffizi Gallery, Florence (2010), Palazzo della Triennale, Milan (2006), Altes Museum, Berlin (2005), MAMCO, Geneva (1999). His works can be seen in more than three hundred museums and galleries and are part of international collections such as: Peggy Guggenheim Foundation, Venice; Städtische Galerie im Lenbachhaus, München; Berliner Museen, Berlin; Museum of Fine Arts, Boston; The Parkview Museum, Singapore; Cnap, Centre National des Arts Plastiques, Paris & Metz. Maurizio Nannucci was invited multiple times at the Biennials of Art and Architecture of Venice (2011, 2000, 1995, 1990, 1978, 1969), at Documenta of Kassel (1987, 1977), the Biennials of Sao Paolo (1981), Sydney (1990, 1982), Istanbul (1995) e Valencia (2003).
Since 1993, Parisi has been working alongside his artistic and didactic activities at the Academy of Fine Arts and through numerous lectures and workshops held around the world. From his  interest in a shared art experience , he participated  in the foundation of the non-profit space Base / Projects for the art of Florence. A space that operates as a reflection on the role of contemporary art in today's society and on the ways of self-determination outside the constraints imposed by the art market and its system. Fundamental aspects of Parisi's work are the experience of art as a cognitive practice and the variation of perception, linked to the change of one's point of view. The work of the artist reflects on the painting and the relationships that it can establish with what  is around it. The fruition of the work then becomes a physical experience that allows you to establish new relationships between content and artist. Since 1991 his work was exhibited in public and private spaces both in Italy and abroad: Museo Novecento, Florence (2019); M.A.C.R.O., Rome (2017, 2009); Fuori Uso, Pescara (2016); MSU, Zagreb (2015); Klaipêda Culture Communication Center, Klaipêda 2013; Cneai, Île Des Impressionistes, Chatou, Paris (2013); Galleria Astuni, Bologna (2013); Fondazione Brodbeck, Catania (2010, 2011); Fondazione Menegaz, Castelbasso (2011); Museo d'arte Contemporanea Palazzo Riso, Palermo (2010, 2014); Städtische Galerie im Lenbachhaus / Kunstbau, München (2006, 2002); Museo Pecci, Prato (2006, 2008); XIV International Biennial of Sculpture, Carrara (2010); White House, Singapore (2008); Korean Design Center, Seul (2008); Galleria Civica Montevergini, Siracusa (2007); Botanical Garden of Parma University (2007); Museum of Fine Arts, Hanoi (2007); Marella Gallery, Beijing (2007);Italian Institute of Culture, Tokyo (2007); Cavour Palace, Torino (2006); Quarter, Florence (2004);  Fabroni, Palace Pistoia (2004, 2001).
Cerreto Guidi, Florence, 1947
Salvadori has established himself as an exponent of a generation after Arte Povera and Conceptualism. His work was always thought of as a will to perceive, putting itself in relationship with the interior «sonority» of the space in which it is created. For Salvadori, the creation "is a path to build with mind, heart and limbs, in the direction of a desire for awareness, as if it were an ascension and ascending is also a seeing". Art is understood as a communion of opposites. The artist's works are based on a dialogue, conceptual and formal, between interior and exterior, uniqueness and multiplicity, spirituality and matter. In many sculptures and installations geometric shapes are interpreted as symbols. From the square, index of the terrestrial dimension, to the circle, metaphor of the celestial geometries. All his work focuses on the idea of overcoming the principles of opposition, in order to achieve a more deep understanding of reality. Remo Salvadori exhibited in private galleries like Lucio Amelio in Naples (1978), Salvatore Ala in Milan and New York (1980 e 1982), Mario Pironi in Rome (1981, 1985 e '86), Christian Stein, Milan (1988, 1999, 2005, 2017) Building, Milan (2017). He held anthology events   in institutions such as Art Gallery of Ontario, Toronto, in 1987; Le Magasin, Grenoble and The Pavilion of Contemporary Art of Milan in 1991, Pecci Museum of Prato in 1997; the Querini Stampalia Foundation in Venice in 2005, MAXXI of Rome of 2012. He was invited to the Biennale di Venezia in 1982, 1986, 1993 and Documenta of Kassel in 1982 and 1992. Between the collective exhibitions where he participated there is Chambres d'amis in Gent in 1986, the inaugural exhibition of Museo Mori of Tokyo in 2003 e Ytalia in Forte del Belvedere in Florence in 2017.
Vezzi graduated in Psychology at The University of Florence in 2005. Since his early beginnings, he saw art as a tool to stimulate new reflections on the bond between nature, collective history and personal memory. His works are always part of an attempt to put in relation historic memory and the places connected to it. Each project is a testimony of the process to which the masterpiece manifests itself, through which it stimulates and forms a dialogue directed to change. Vezzi was inserted in the Class magazine between the ten young artists to invest in. His work was protagonist of collective and personal projects in institutional spaces in Italy and abroad:   Srisa Gallery, Florence (2018); Centrale Fies, Trento (2016); Grassi Palace, Venice (2017); Meštrovićev paviljon, Zagabria (2017); Gallerie SeeStudio, Paris (2015); Parco della Musica, Rome (2013); Museo di Villa Croce, Genova (2012);  Moroni Palace, Padova (2011); Galleria Contemporaneo, Mestre (2010); CCCStrozzina, Florence (2009); Riccardo Crespi Gallery, Milan (2008); 26cc, Rome (2008);  Vianuova Gallery, Florence (2008); Galleria Civica, Trento (2006); Padiglione Italia, Venice (2004). He also conducted laboratories, lessons and conferences with: AAA in Brussels, Radar of Loughbourough, Fabrica de Pensule of Cluj-Napoca, Care of in Milan, Bevilacqua La Masa of Venice, Fondazione Fotografia di Modena, Neon Campobase of Bologna, MIC Museum of Faenza, Villa Croce Museum of Genova. His work was on important magazines such as: Flash Art, Arte Mondadori, Artribune, Exibart, ArtKey, Arte e Critica, Artext, Domus and on publications: La Fine del Nuovo / Neo edizioni, Non di sola arte / Fondazione Giovanni Agnelli editore, Oltre l'Estetica / Meltemi editore, Emerging Talents 2009 / CCCStrozzina edizioni, Laboratorio Italia / Johan & Levi editore. Since 2008 he has been an active part of the collective Base / Progetti per l'arte of Florence.
BSJ15 Architecture and Art Collection
Find out more about artists and their works.